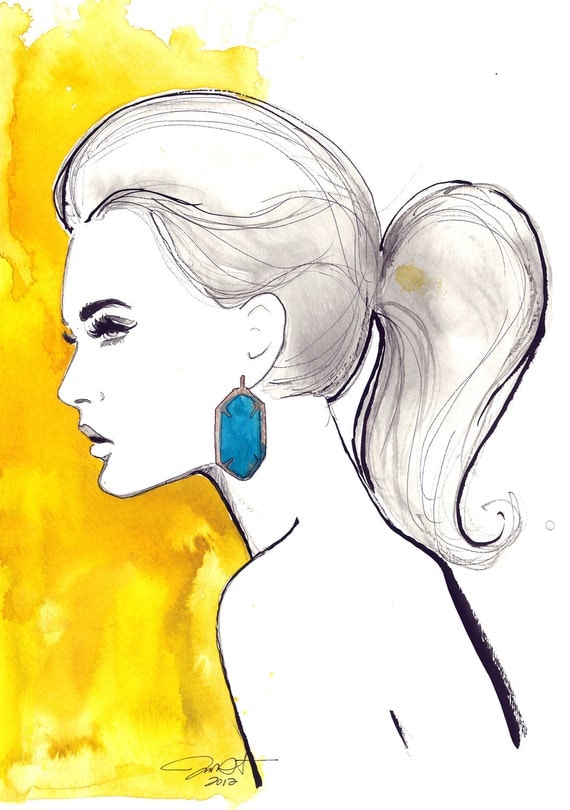 Check out what I'm digging this month!
1) If you haven't heard of Jessica Durrant of Jessica Illustration, then you need to jump on the bandwagon now! The painting above is one of her works and one of my favorites. I also cannot get my mind off of "Sleeping Alone." Her artworks are simple but powerful. They're usually just little more than an outline of a woman and then often times, the background or the clothes or accessories are pops of colors. It feels like to me that they empower women(not sure if that makes sense.) Also love her Watercolor World Map Illustration.
2) I need more seating in the living room. Currently we're trying to hold off on getting any more major furniture aside from a mattress, so I've been looking at the cross base ottoman from West Elm, preferably silver or the blue. I sat on one recently, but not even a sales person in the store knows how much weight it supports. I want these to act as extra seating, not just something to put my foot on or set a tray on.
3) Which leads me to the Palmer Ottoman from Safavieh. They support up to 250 lbs. That's good enough for me! I have three colors in mind and I can't decide which one! I'm leaning towards the orange, navy, and the gray.
4) I really enjoyed this post by Justina Blakeney. I kind of always wondered how you created a pattern.
5) If you're a horse lover like I am, then you'll appreciate Heidi Lanino Bilzikian's artwork. I discovered her through this post from The English Room. I am particularly fond of Blue Tang I.
6) I have an corner in my room that needs to be filled and I've been thinking of occupying it with a shelf. I've got my eye on the Burnished Metal and Glass Asymmetrical Kali Shelf from World Market.
7) How awesome is this Traveling Elephant Pillow from Anthropologie? Need it now!
8) If I ever get a living room big enough for multiple seating areas, the Arden Tete-A-Tete couch from Jonathon Adler would be in it. What a perfect spot to enjoy another's company. You could lean back and face each other. Or it could even be the piece in the middle joining a couple of seating areas, where it might have been two separate areas before.
9) The Waylande Gregory Crane Salt and Pepper shaker from Furbish are so pretty and distinguished. Love the color combinations on it!
10) I enjoyed this post by An Indian Summer. It's rather inspiring that it's like a poem but with pretty pictures injected every few lines, which helps break it up and gives you a second to let the words sink in while you're looking at the pictures.
Maybe I should have asked Santa for a bigger bank account.
By the way, I'm now set up on bloglovin. If you've got an account there, see if you can find me.