Valentine's Day seems to be the most anticipated or the most dreaded holiday of all. Love plays a very big role in all our lives. I think we make too big a deal about this one particular day, whether you love or hate it. I think a lot of people tend to forget that this day should also be dedicated to loving themselves, not just others. I have found ten things that fit the Valentine's Day theme, whether it's for yourself or someone else.
1) Love Brass Object from West Elm. I absolutely love this!!! Just seeing it again makes me happy and it's totally on my list of things to buy for the home. I first came across it on the Bright Bold & Beautiful blog here. I'm very glad that Laura Trevey took a minute to share this glamorous object with us.
2) Valentine's Pillow Cover from West Elm. While I was drooling over the Love Brass Object, I decided to see what else West Elm had to offer in the love department. These pillows are adorable!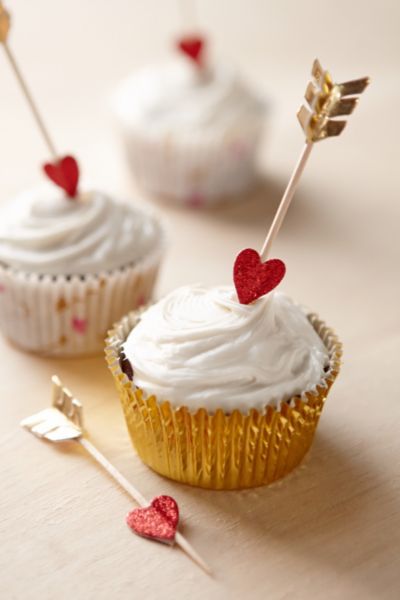 3) Valentine's Day Cupcake Decor Kit from Urban Outfitters. I love cakes and cupcakes and all things sweet! This is a fantastic way to dress up a cupcake from simple to fabulous!
4) Sweet Hearts Cake from Kikki.K. Yet another fabulous cake to share. I love that it's simple and chic. This cake was inspired by wrapping paper. Prove you really can find inspiration anywhere!
5) Red and white dinnerware inspiration via ZsaZsa Bellagio. Normally I'm not a huge fan of this much floral, but I really like the pattern mix here on top of a rustic hutch. To me, this is a Valentine's Day inspiration in everyday mode. ZsaZsa Bellagio's blog has other good-looking pictures of red and white rooms.
6) Redding Rainbow styled by Carolyne Roehm via Style at Home. Every room deserves to be graced with flowers and roses. Too bad that can get expensive real quick. Good thing it makes us appreciate it all the more. Carolyne Roehm continues to style flowers so fabulously that I need to learn a trick or two from her.
7) Grand Marnier with whipped cream and strawberries from Star Chefs. This sounds amazing! Exactly the sort of things that makes you feel like you're indulging yourself. Now, I happen to have Grand Marnier on hand…
8) Romantic Bedroom designed by Barry Dixon via House Beautiful. I love this "rosy glow" and it feels so luxurious that I'd never want to leave. This is also an excellent example behind my reasoning for having sexy bedrooms.
9) Vincent van Gogh. From 'Almond Blossoms' Series (1888-1890). Vincent van Gogh continues to be my favorite painter. The Starry Night is one of my favorite work of his. But this red painting is fitting for Valentine's Day, however out of date it may be.
10) Wild Chairy by Andrea Mihalik via Apartment Therapy. How fun is this chair? Talk about adding personalities to a chair. Andrea Mihalik will definitely be my inspiration in the future when I need to re-upholester furniture.
Have a Happy Valentine's Day and a good weekend.