Sorry about the delay in getting this post out! It's been a busy week!
It looks like spring is here to stay and that usually strikes a lot of spring inspiration. For me, the particular inspirations are floral and botanical patterns.
I'm a little conflicted about florals. Don't get me wrong. Fresh flowers are the perfect remedy to bring a room to life.(Photo via Designer Guild and Total Wallcovering)
As beautiful as this room is, I wouldn't think it was nearly as dramatic without those flowers on branches.(Photo via Domaine)
I don't wear florals very well. I think a lot of floral clothes are very feminine, which is not me. I'm not a girly girl and so it wouldn't makes sense that my home should be decorated that way. Floral patterns also get a pretty bad rep for being too grandmotherly or too pink, but I think I've found some examples to show you that we can break out of that stereotyping box!
Floral patterns are being used in a more dramatic way today. That powder room is a perfect example of how you can still use floral patterns without getting too feminine. I gotta say, this helps me step out of my comfort zone. (Photo via Cupcakes & Cashmere)
I'm actually loving this bedroom. I love this modern take. With the background being white, it really allows a chance to let the flowers pop. I think part of what I love about this is that these shades of flowers look like what you'd pick out of a garden. Nothing looks unrealistic, but it takes on a whimsical vibe. Get the rest of the tour of this happy home here on Design Sponge.
Those pillows are watercolor style. Hard to determine, but that picture above the bed might be, too. Which led me to this interesting blog about decorating with watercolor florals by Alison Victoria. I never really thought about watercolor florals. Definitely another modern concept to think about.
Did you know that floral prints first made its appearance in Eastern Central Asia in the 12th century? Makes sense that next, it would take off in Europe and the Middle East. Floral prints were everywhere during the Arts and Crafts Movement. That photo above is one of William Morris' work. Read about the brief history here on Island Window Coverings.
Let's take a look at some of the ways to use floral patterns.
Wallpaper
Wallpaper will give you the maximum effect. Especially if you do all of the walls. This photo above has waincoating, which is a great alternative if you don't want to do the entire wall but still get your "wow" factor. (Photo via Domaine.)
Look at that dramatic effect that you get from doing an entire wall. Talk about going bold! (Photo via Trendy.)
This is bold, too, but it doesn't feel like as much of a commitment as the darker background. White is not as much of a commitment for a lot of people, which is something to think about when picking out wallpaper. (Photo via The Glam Pad.)
Furniture
If wallpapers are not your thing, try floral patterns on furnitures. I'm loving this modern twist on an antique chair.(Photo via Apartment Therapy)
You don't even have to cover the entire chair. I love how this adds interest to the chair. And those nailhead trims! I love that kind of detail! (photo via Pinterest)
Try out headboards and add a romantic flair to your bedroom.(Photo via Pinterest)
How about this beauty? This is hand carved and inlayed with mother of pearl. I think this would be great as a bedside table. (Photo via Anthropologie)
If you're a DIY person, try revamping a small storage closet. This is actually an inspiring project for me. (Photo via BGH)
Curtains
Curtains are a great way to add floral into your home. Have them in the usual spots, like the living room in this photo or even in the bedroom in the photo below. (Photo via Coastal Living)
(Photo via Hunted Interiors)
There are other unexpected ways to use curtains. I think curtains as a canopy for a bed is a nice luxurious surprise. It just makes the bedroom look cozier. (Photo via BuzzFeed)
Using a curtain panel by the kitchen door is another nice surprise. It definitely adds to the chic vibe. (Photo via Shelterness)
I would certainly think of using curtains for the bathroom window, but how about as a shower curtain? (Photo via World Market)
Urban Outfitters have some good looking ones, but of course they're all sold out. (Photo via Pinterest)
Lighting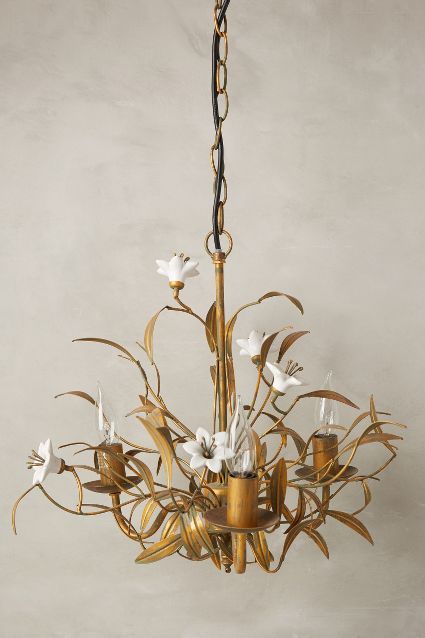 Every room needs lighting to set whatever mood we need. There's nothing quite like a chandelier that says formal and fancy- not that every chandelier is formal. I guess the better word would be sophisticated taste. (Photo via Anthropologie)
I love this DIY project! I think it's a nice surprise to have the flowers on the inside of the lampshade. The color combinations are great! The lamp shade are made out of wallpaper. (Photo via Signature Prints)
This is another fun DIY project, but maybe a little more tricky. I love how cute this turned out. Click here to read Country Living's DIY steps.
Here's another fun challenge for you. Paint a lampshade to look like watercolor flowers. Get the instructions here from Jennifer Rizzo's blog.
Art
I don't have to tell you that art can go anywhere in your house. You can find them in the dining room, living room, bathroom, and even leaning up against a wall on the floor of a room. Hang your flower arts anywhere it makes you happy. This dining room is a more happy room because of the flower painting-in my opinion, of course. (Photo via BHG)
Some flower arts are dramatic and those are my favorite kinds of flower art. That painting in the photo above is just perfect for a bedroom. (Photo via Las Cositas de beach & eau)
Here are a few more of my favorites.
Black Pansies, Frances Sinclair (Photo via Along Time Alone)
Bedside Roses, Nicole Pletts (Photo via Nicole Pletts)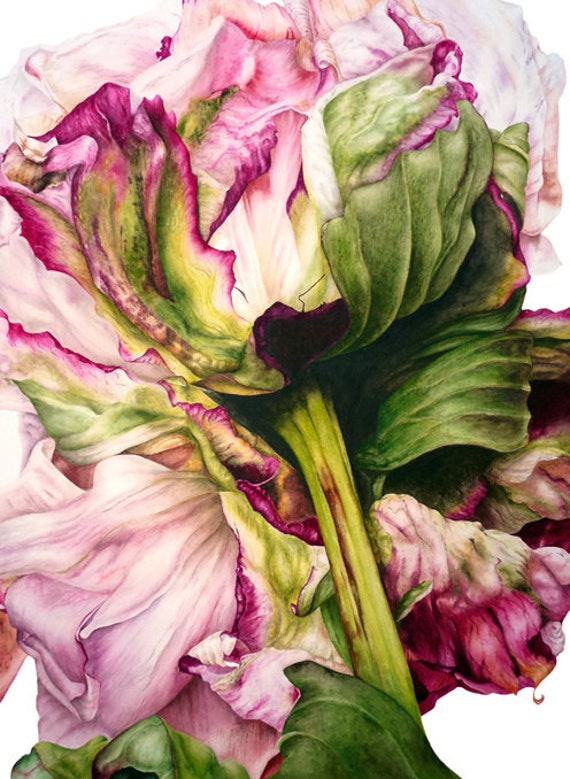 Peony II, Blue Shed Studio (Photo via Etsy)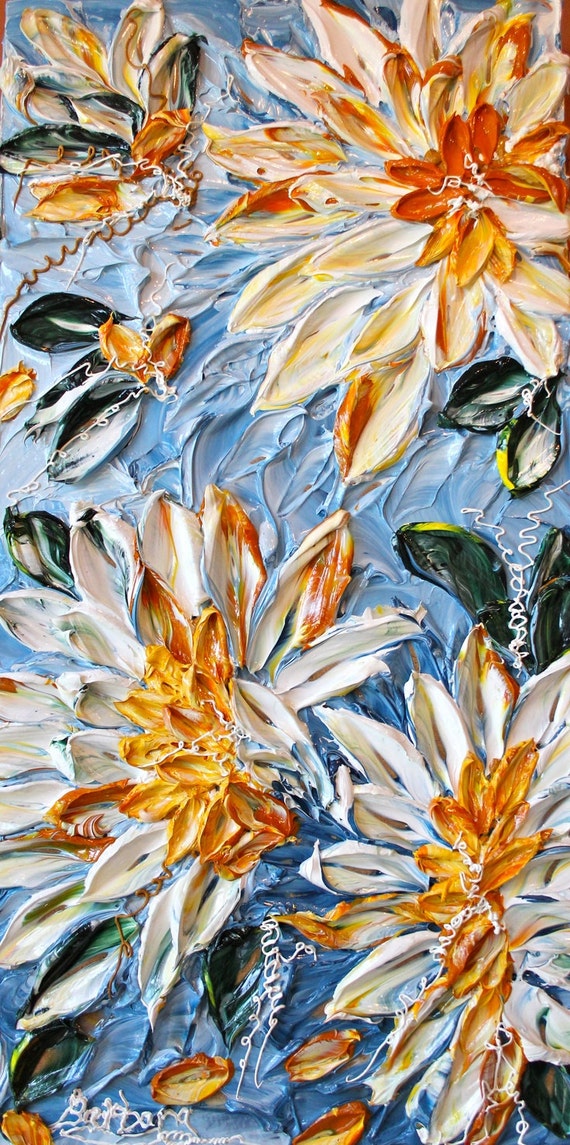 Sunshine on My Shoulders, Creative Womanhood (Photo via Etsy)
This list could probably go on, but it's pretty long as is. Let me know how else you would decorate with floral prints. Actually, let me know if you would decorate with these modern floral prints at all. I think I have found myself a little more convinced of decorating with them after writing this post.
Ralph Waldo Emerson (Photo via Nezart Design)